Just a few pics from my iPhoto library...
Levi after a friends' birthday party. Goofball!
Backyard baseball! Our lab, Duke, is the perfect outfielder. He goes after every ball and brings it right back to the pitcher. It's awesome! Both boys like to be Josh Hamilton and take turns hitting home runs.
This was around 2am the other night. I was walking around the house trying to relieve restless leg, and this is what I found when I checked on the boys.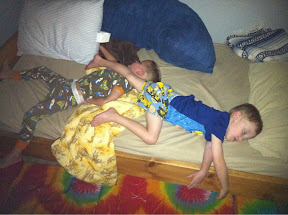 The past few days have brought cooler temps (not triple digits) and rain! It has been so nice to play outside in all the puddles!
Also, special thanks to Mo for the new blog look!
-sorry for any typos. I did this post from my phone...